Cloud Edition users can connect to their Exchange account to enable syncing between Salesforce and Exchange. Users are prompted to connect to Exchange during the initial set up process (see: Creating a Cloud Edition Account). However, in some cases, this step is bypassed or users need to reconnect at a later date. In this section, you will learn how to connect your Exchange account.

Tip: A Cloud Edition Host is any external system that contains data that can be synced to another external system. These systems "host" the original data and receive new content via Cloud Edition.

Click the images throughout the Knowledge Base to see full size versions of screen captures.
---
Connecting Cloud Edition to Salesforce


Log in to Cloud Edition, and select the My Settings option in the top right corner of the screen.
---

Locate the Hosts section and note the status of the Exchange connection. The red X and Please configure status indicate that the user account is not connected to Exchange.
---

Select the Edit link for the Exchange Host to view the connection options.
---

Select a Connection Type from the drop-down list to connect to Exchange with Office 365 credentials through the web browser or to manually enter your User Name and Password for your Exchange account.
---

Tip: Some organizations configure their Exchange environments to block autodiscover connections. To troubleshoot, select the Manual option for Connection Type. Then select the Advanced checkbox and deselect the option to Use Exchange Autodiscover Service? Enter the Exchange Web Service URL and Exchange Version for your environment.  This should be provided to you by your internal IT Admin.
---

Warning: The Exchange Connection Type selected by the Admin when first creating a Cloud Edition account is set as the default value for all subsequent users. If an Admin changes their Exchange Connection Type at the User level at a later time, existing users will retain the original setting but all subsequent users will inherit the new selection as their default value.
---

Note that the Exchange account is now connected. Click the X in the top right corner to close the window.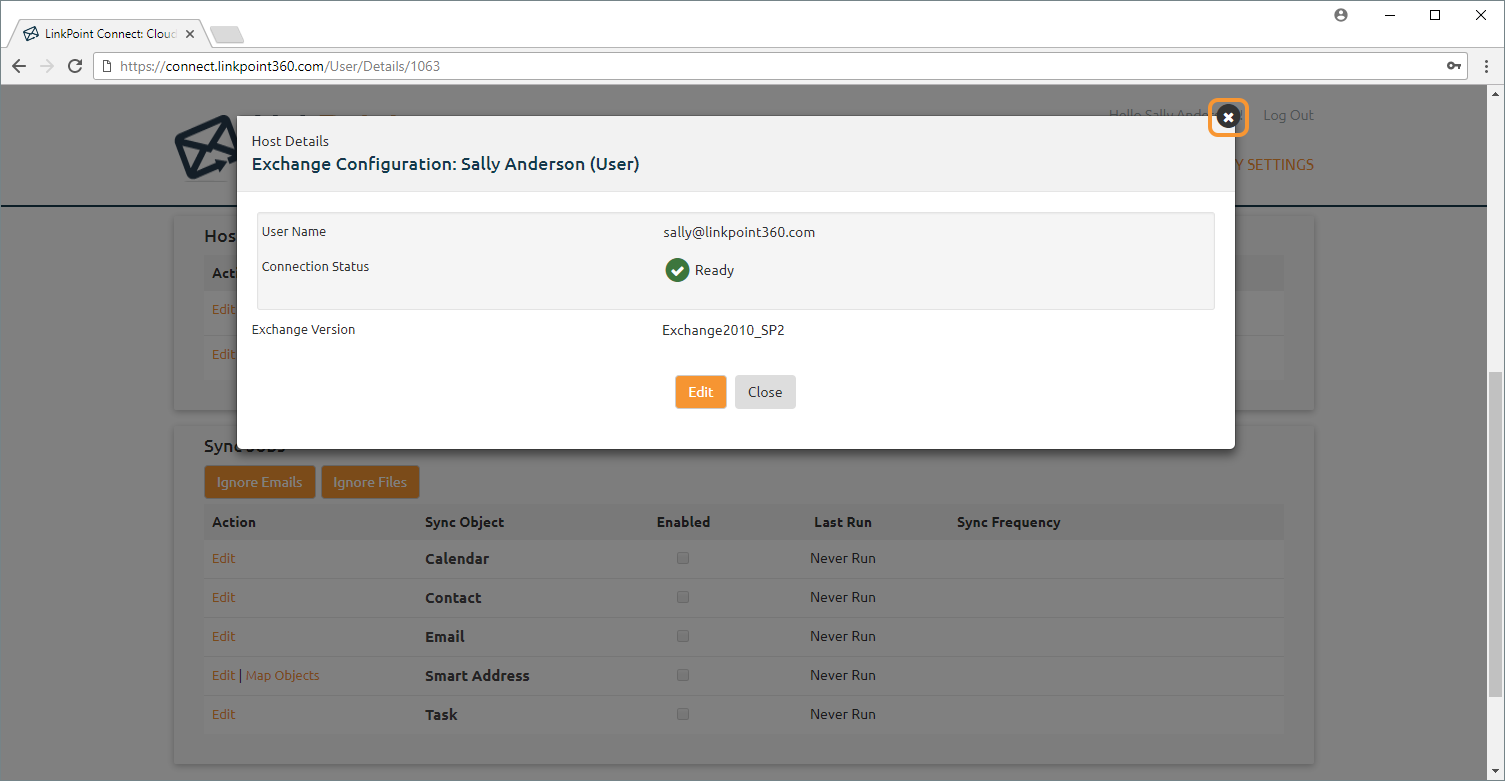 ---

Tip: An email notification is sent to a user when one or both of their Hosts becomes disconnected. The email prompts the user to log into the web portal and enter their credentials to reestablish the connection and resume syncing.

Tip: Both the Username and Password fields for the Exchange Host are cleared after a user disconnects. Users must reenter both values in order to establish a connection with Exchange.

Tip: Admins can request that Host Disconnect emails also be forwarded to Admin users for a Cloud Edition Subscription. This feature adds the Admin as a Cc recipient on the email to the end user. This setting is off by default and can be enabled by LinkPoint360 Support on request.
---

Download: Access the complete LinkPoint Connect: Cloud Edition (Exchange + Salesforce) User Guide in .pdf format. Get the User Guide
---

Still need help? Contact our Support Team.