The LinkPoint Connect Side Panel is designed to enable users to spend the majority of their time working directly within Lotus Notes and still see content that is updated in real time from Microsoft Dynamics CRM. Users can also jump directly to specific records in Microsoft Dynamics CRM, without the need to search and scroll for information. The Side Panel enables users to see the specifics about who the contact is, where users left off in the sales or support process, and the interaction that others in the company may have had with the contact. The LinkPoint Connect Side Panel shows what is in Microsoft Dynamics CRM and lets users access the information dynamically.

Click the images throughout the Knowledge Base to see full size versions of screen captures.
---
Showing and Hiding the LinkPoint Connect Side Panel


Open IBM Notes. Select LinkPoint from the templates menu, and select Side Panel from the drop-down list.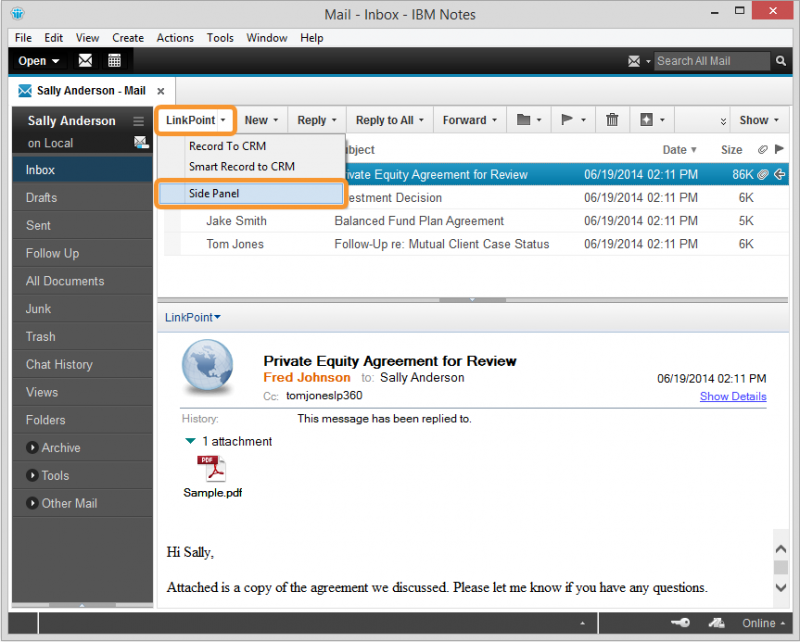 ---

Select the red x button in the top right corner of the Side Panel to close it.
---

Download: Access the complete LinkPoint Connect: Lotus Notes + Microsoft Dynamics CRM User Guide in .pdf format. Get the User Guide
---

Still need help? Contact our Support Team.