In this section, you will learn how to instruct individual users to enter their LinkPoint Connect License Key, which is necessary in order to be able to use the product. Once the software has been installed via Citrix or Terminal Services by the server admin, this process must be followed in order to activate the LinkPoint Connect software. The following steps should be followed by the individual end users on their machines.

Click the images throughout the Knowledge Base to see full size versions of screen captures.
---
Entering a License Key for Virtual Desktop Environment Installation

Close the email application on the individual end user machine.
---

Tip: Server admins and/or software deployment teams may be able to automate this step for end users.
---

Navigate to the Windows Start Menu or Start Folder and locate the Complete Installation program. Click Complete Installation to finish the installation process on the end user machine and to launch LinkPoint Assist.
---

Tip: Clicking the Complete Installation link per user also registers the Outlook Add-In for users running LinkPoint Connect in Microsoft Outlook.
---

Enter the required information for the First Name, Last Name, and Email Address fields.
---

Enter the License Key, and click Verify License.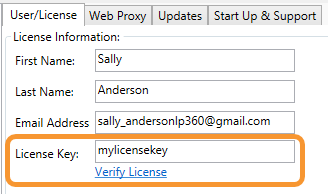 ---

Tip: This field may already be populated for the end users as part of the LinkPoint Connect installation services provided by LinkPoint360 Professional Services.
---

Tip: If the user enters the license key but the field reverts to an Evaluation license key, your firewall may be blocking access to the LinkPoint Connect server or there may be an issue with the proxy settings.
---

Click Apply and then click Ok to save the changes.
---

Download: Access the complete LinkPoint Connect Virtual Desktop Environment Installation Guide in .pdf format. Get the User Guide
---

Still need help? Contact our Support Team.