About the Fall '19 Release
LinkPoint360 is dedicated to enhancing its products with a constant eye to user experience and productivity. The Fall '19 release premiers a complete redesign and optimization of all LinkPoint Connect functionality with an enhanced Side Panel.

The Fall '19 release of LinkPoint Connect will be deployed in Q4/2019. Please watch this page for updates.
---
Fall '19 Release Summary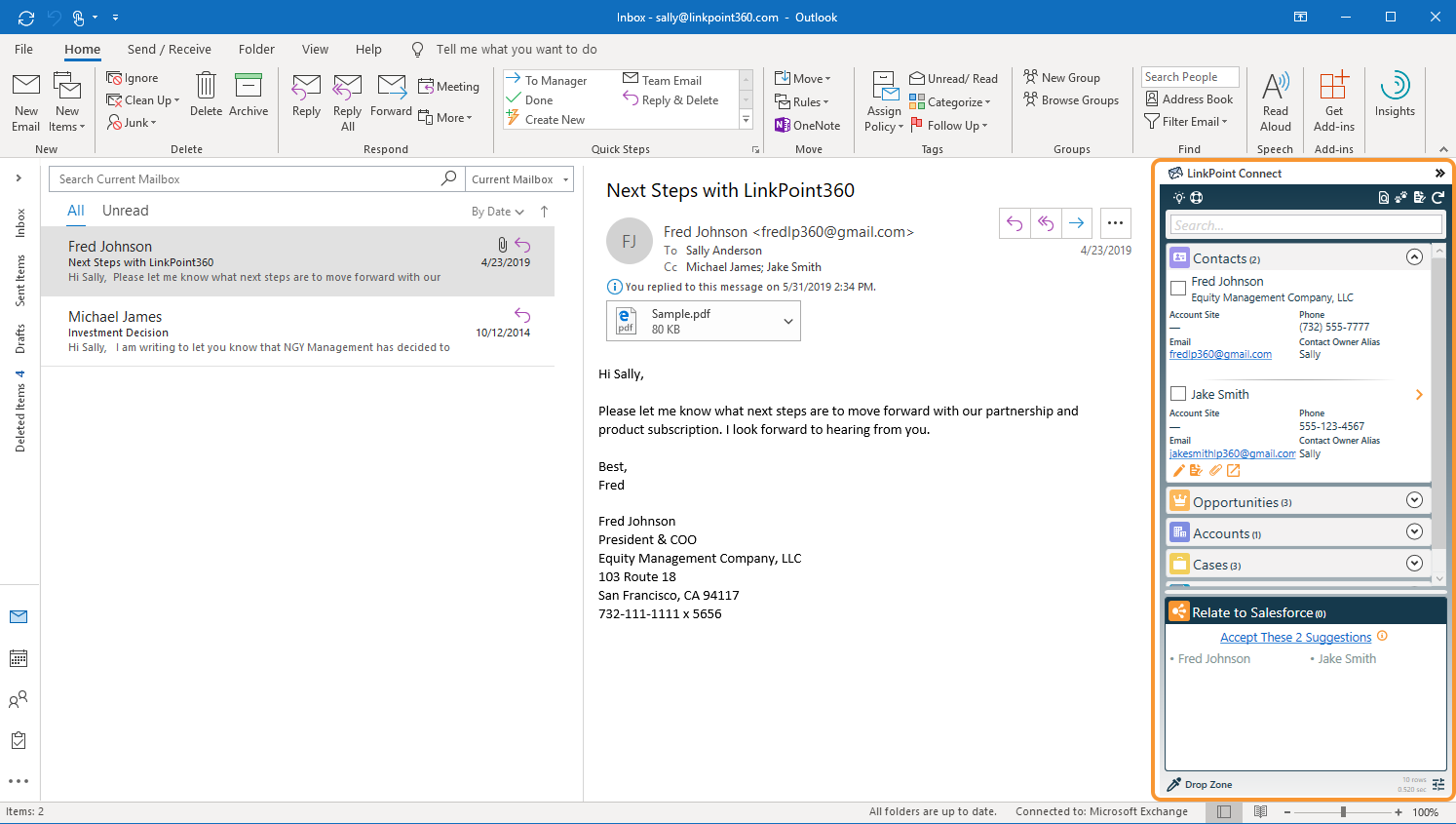 Updated Design
The Side Panel has a new look!
Our fresh UI makes it even easier to navigate, locate, and interact with Salesforce data within Outlook. The Side Panel is available for both inbound and outbound email recording and includes access to attachment recording, email recording, record create and update features, and search functionality.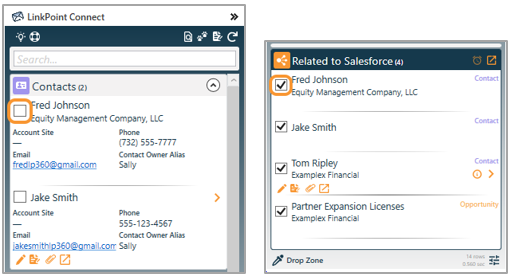 Single Click Email Recording
Email recording has a new home. Record Window functionality has been migrated to the Side Panel.
Select an inbound email or compose an outbound email with recipients added to the To, Cc, or Bcc fields. The Side Panel displays related Salesforce records for reference. Simply check the box next to each record that you would like to record the email to.

Enhanced Search
Find any record, any time. Enhanced search allows users to locate specific records searching on an expanded number of Salesforce data fields.
Quick Find search lets users search within displayed results to narrow down presented content.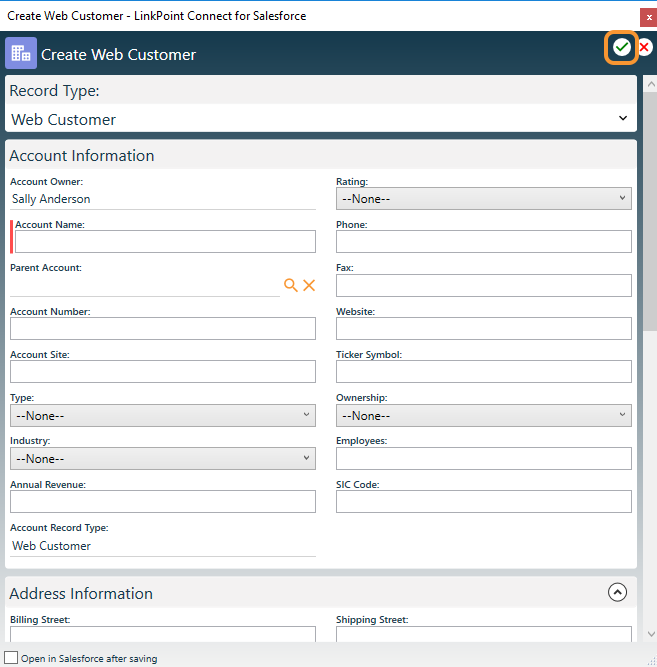 Refreshed Forms
Introducing…SnapForms!
SnapForms are updated and refreshed forms that let users create and update existing Salesforce records right from Outlook. SnapForms include support for required, dependent, and inline fields, making them more dynamic out-of-the-box.
Custom Comes Standard
Working with Custom Objects? No problem.
The enhanced Side Panel automatically detects the Custom Objects you have access to in Salesforce. You can create, edit, and search on these items with ease.
---
Resources
Our complete redesign extends to our support documentation. Users switching to the Fall '19 Release will want to review the dedicated User Guide and Knowledge Base articles for details on all updated system functionality.
---
A Note about Software Upgrades
The Fall '19 Release is available for LinkPoint Connect for Salesforce: Desktop Edition integrations.
Products and services provided by LinkPoint360 are automatically updated by default. Individual users may, in most cases, change their update preferences within LinkPoint Assist.
Some organizations may request that upgrades be disabled by default and then manually released at the discretion of internal IT teams. If you see new features or functionality listed within the release notes but do not see the new features in your instance of LinkPoint Connect, please contact your System Administrator.
Additionally, to preserve existing configuration for our clients, accounts running our application for Citrix/VDE set ups, those with prior custom deployments, and those for our Solutions integrations will not receive automatic upgrades. If you would like to upgrade your users to the Fall '19 release, please contact your Account Executive or customersuccess@linkpoint360.com.
---

Still need help? Contact our Support Team.
---

Get started with a free 14-day trial of LinkPoint Connect. View, record, create, and sync between email and CRM with simple and seamless integration for any platform.