In this section, you will learn how to install the LinkPoint Connect software. Users can access the LinkPoint Connect Installer in several ways including the LinkPoint360 Evaluation Form or a direct link provided by a LinkPoint360 Account Executive. All methods provide access to the same Installer for users of both the free trial and licensed product.

The following steps apply to individual user installation of the LinkPoint Connect for IBM Notes + Microsoft Dynamics CRM. For users in Terminal Services or Citrix environments, please refer to additional documentation.

Click the images throughout the Knowledge Base to see full size versions of screen captures.
---
Installing LinkPoint Connect

Select the link for the LinkPoint Connect installer provided in your welcome email, or enter the URL in your browser address bar and press enter.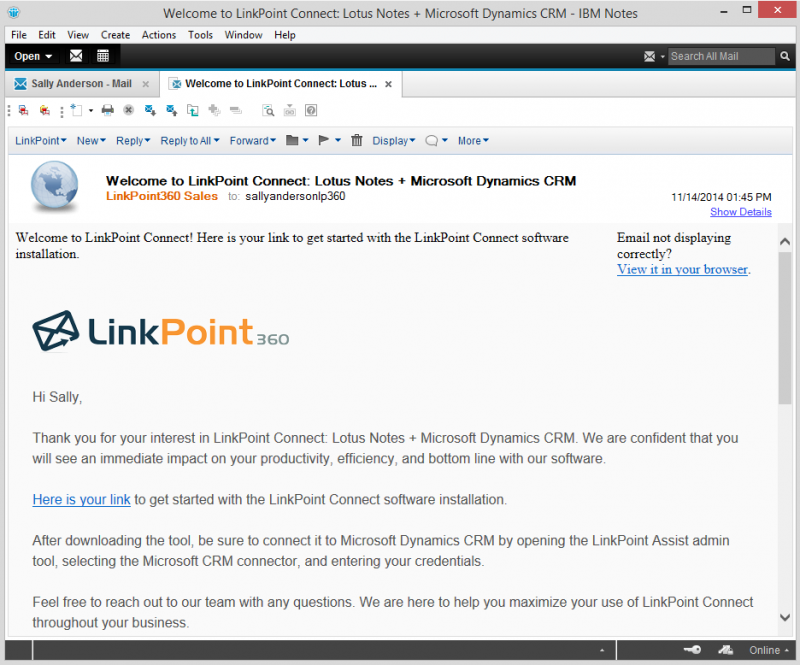 ---

Click the Save File button within the dialogue box to download the LinkPoint Installer to your system.
---

Locate the file LinkPointMicrosoftCRMSetup.exe on your computer and double click the file to launch the Installer.
---

Click Next on the first screen with the LinkPoint for Microsoft CRM – InstallShield Wizard to start the installation process.
---

Select the I accept the terms in the license agreement option, and then click the Next button to proceed.
---
Close IBM Notes if you have not done so already. Be sure to close the email application before clicking the Next button in the Installer to continue.
---

Select the installation preferences within the Custom Setup screen. By default, the Installer will place the LinkPoint Connect software on the system hard drive. Click the Next button to continue.
---

Review the Current Settings for the installation. Click the Back button to make changes, or click the Install button to start the installation.
---

Tip: LinkPoint Connect relies on a common Microsoft technology called .NET Framework 4 Client Profile which comes pre-loaded on Windows 7 and above. If your computer does not already have this installed, it will automatically be downloaded as part of the LinkPoint Connect installation process.
---

With the Configure LinkPoint checkbox selected, click the Finish button to exit the installer.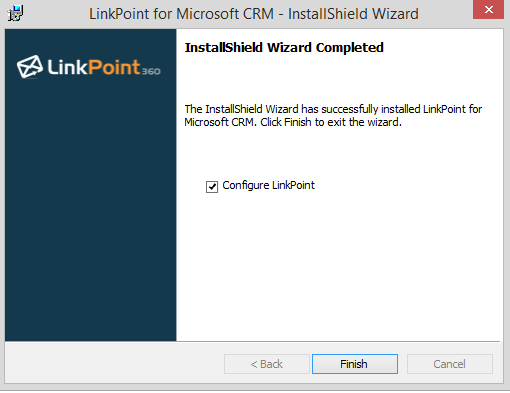 ---

Tip: If you are not ready to configure LinkPoint Connect, you can uncheck the Configure LinkPoint box and click Finish. Follow the steps for Entering a License Key when you are ready to proceed.
---

Download: Access the complete LinkPoint Connect: IBM Notes + Microsoft Dynamics CRM User Guide in .pdf format. Get the User Guide
---

Still need help? Contact our Support Team.