The LinkPoint360 Development Team is dedicated to enhancing our products and solutions with a constant eye to user experience and productivity. The Fall '15 release is designed to provide LinkPoint Connect users with enhancements that make it even easier to work productively within email.

The Fall '15 Release of LinkPoint Connect will be deployed in Q4/2015. Please watch this page for updates.
---
Fall '15 Release Summary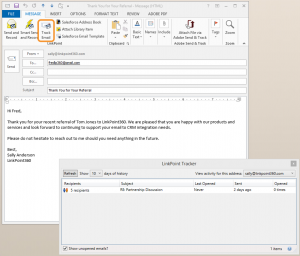 LinkPoint Tracker
LinkPoint Tracker enables users to track when an outbound email is opened by one or more recipients. With real-time notifications, users can proactively follow up with key leads and contacts. When sending an outbound email, simply click the Track Email button in the Microsoft Outlook ribbon. Compose and send the email as needed. When the email is opened by a recipient, users will receive a pop-up notification, if desired, and can review email read history within the LinkPoint Tracker window. Note that due to limitations with IBM Notes, this feature is available for Microsoft Outlook integrations only.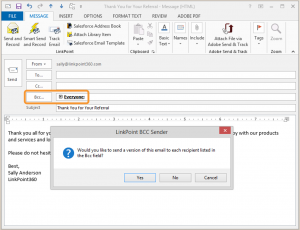 LinkPoint Bcc Sender
LinkPoint Bcc Sender helps users send emails in a 1-to-1 format while using established distribution lists within Microsoft Outlook. When sending an outbound email, include the distribution list or series of email addresses in the Bcc field. Compose and send the email as needed. LinkPoint Bcc Sender will confirm that you wish to send a separate version of the email to each recipient prior to sending. This feature can be used along with LinkPoint Tracker. Note that due to limitations with IBM Notes, this feature is available for Microsoft Outlook integrations only.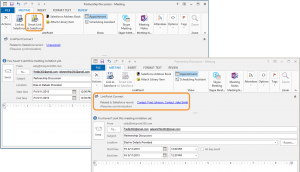 Smart Link for Meetings/Appointments
LinkPoint Connect's Smart Link feature takes our Link to Salesforce functionality for meetings and appointments a step further. Users can create a meeting or appointment, and then click the Smart Link button to have LinkPoint Connect search Salesforce for Leads and Contacts in the CRM that match the invitees listed on the meeting or appointment. When the meeting is sent, a record of the appointment will be recorded to the corresponding record in Salesforce. This feature will be available for our Microsoft Outlook and IBM Notes integrations.
Support for Salesforce Platform Encryption
With Salesforce Platform Encryption becoming one of the most important features for Salesforce enterprise customers, LinkPoint360 is proud to be among the first AppExchange partners to support this release with email integration from LinkPoint Connect. Users have the ability to record emails, synchronize data, and view Salesforce content based on their level of Salesforce access.
---
A Note about Software Upgrades
Products and services provided by LinkPoint360 are automatically updated by default. Individual users may, in most cases, change their update preferences within LinkPoint Assist. Some organizations may request that upgrades be disabled by default and then manually released at the discretion of internal IT teams. If you see new features or functionality listed within the release notes but do not see the new features in your instance of LinkPoint Connect, please contact your System Administrator.
---

Still need help? Contact our Support Team.