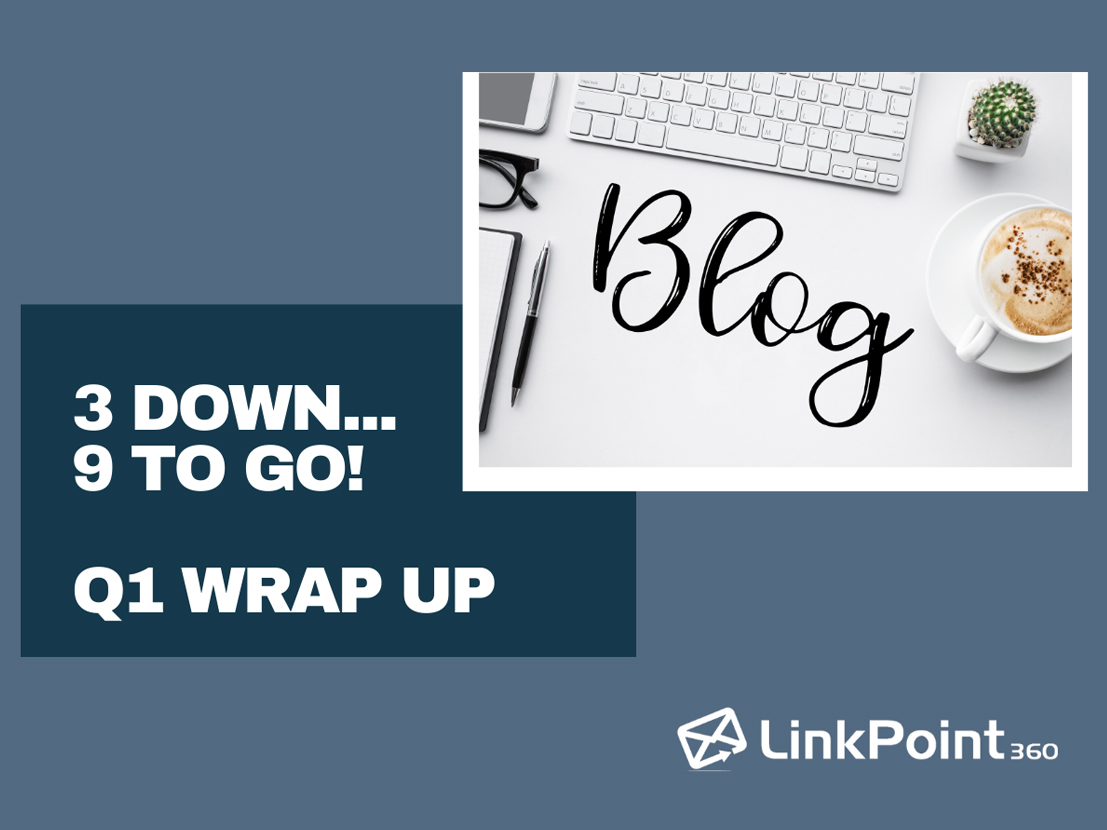 Posted in: Business Success, Releases
Can you believe we're nearly done with the first quarter in 2020? Time certainly flies when you're having fun, focused on your goals, and releasing new software left and right. At least, that's how it has been at LinkPoint360 over the past few months.
We started out 2020 strong on the heels of our new UI release for LinkPoint Connect (if you have not seen our new Side Panel…you are definitely missing out!). January became a time of planning and purpose. We signed up to sponsor a number of Salesforce industry events (we're looking at you, NYC), launched a few new marketing initiatives, and followed it all up in February with yet another new product release. Our 7.2 release amplifies the new Side Panel and brings extra features and accessibility to the software. We're excited to share these upgrades with prospects and customers alike. They'll lay the foundation for even more updates, enhancements, and announcements planned for the rest of the year.
All of this means that our teams have been super busy, incredibly productive, and hyper-focused on staying organized to keep up with it all. For my own teams, knowing the end goal (release promotions and customer upgrades) is only part of the plan for success. We have to be able to break out tasks into greater detail, identify potential roadblocks, and work weeks (or even months) ahead of everyone else to be ready for each deliverable date.
If you can define your goals, and break down the meaning of success for each goal, you can practically enact a plan that will get you where you need to go. And on the eve of Q1's end, we've hit every benchmark and are already in the works on initiatives for Q2 and beyond. Go team!
I hope sharing some of these insights guides you to meet your own goals this (and next) quarter. We've also put together 25 of our favorite tips for closing out a quarter strong whether you're sales focused, client focused, or just have a zillion projects to juggle.
Be direct and clear with your prospects.
Don't put all your eggs in one basket with a big opportunity.
Focus. Focus. Optimize your time to the fullest.
Adapt when needed.
Continually review your goals if not daily then weekly.
Follow up on all potential opportunities.
Grow your network by connecting with more people.
Promote your product beyond the product itself and highlight features.
Invest by training your team and coach them to success.
Focus on your sales pipeline and not just leads that are ready to close.
Try to get the decision maker via email or phone to close the deal.
Add some creativity by special offers or events to gain more customers.
Check back in with leads that initially said "No" and have a casual conversation.
Hold standing meetings to help regroup your team and goals.
Start preparing for the next quarter. Now.
Review your week plan every Monday to prepare for the week.
Be more aggressive where you can to close those deals.
Make special offers or consider incentives.
Continually measure metrics and make adjustments as needed.
Research your prospects and customers.
Evaluate where you are, and aren't, productive and address it.
Upsell where you can. Don't where it doesn't make sense.
Listen to your prospects' problems and speak less.
Defeat rejection by boosting your team confidence.
Give certain prospects space…for now.