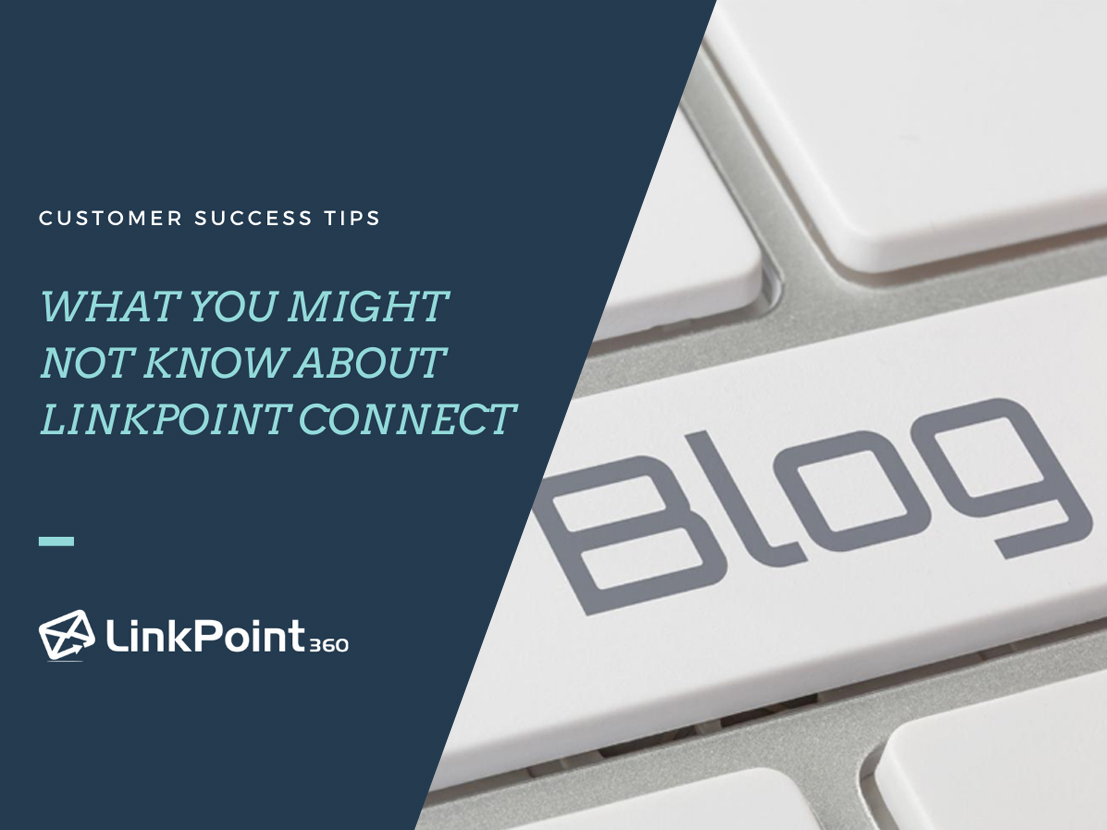 Posted in: LinkPoint Connect, Microsoft Outlook + Salesforce
I've been with LinkPoint360 for more than 6 years, and the company has been around for more than 18 years. We're industry leaders in email and CRM integration. We brought third-party innovation and support to Saleslogix back in the day when Saleslogix was, well, Saleslogix. We grew, and grew some more, and supported Salesforce and Microsoft Dynamics as they continued to evolve their CRM offerings.
That said, I think that my team and I are actually at a disadvantage. We know pretty much everything there is to know about LinkPoint Connect, LinkPoint360, and its role in the industry. (I even won the company holiday party trivia contest about my coworkers. No stone goes unturned!) The disadvantage is that we can forget sometimes that new customers and CRM players might not be as familiar with us. I wanted to take this opportunity to share some things you might not know about LinkPoint Connect. And I miss something that you want answered, just ask me and my team.
LinkPoint Connect tracks emails.
That's right — we not only record emails, but in the last year, we updated our email tracking component (100% included in the software at no additional cost) to add accuracy to email open reporting. The feature is off by default since a lot of users don't want to be interrupted with email open alerts, but you can enable it with just a few clicks. The best part? Feature improvements are on the road map to expand this functionality (and we take suggestions).
LinkPoint Connect has a built-in contact assistant.
Customers email me all of the time (hi, everyone!). Sometimes they are new end users at existing accounts looking for training. Other times, they're a new point of contact reaching out for account details. Whatever the case, my focus is on building that relationship. My focus is not, exactly, on updating Salesforce. Thankfully, I use LinkPoint Connections to collect all of the new contacts gathering in my inbox, and then I can just quickly click through to add them (or not) to Salesforce. Just make sure you're updated to our latest version to take advantage of this one. Which reminds me…
LinkPoint Connect had a major release last year.
Have you seen our Enhanced Side Panel? It's a complete redesign of our email integration for Salesforce. Since we know how much change can disrupt workflows, we made the upgrade completely optional. But you can watch some recent videos I made about it, and if you haven't upgraded but would like to check it out, just email customersuccess@linkpoint360.com and we'll get you on your way. Why upgrade? Well, access to Connections (the aforementioned contact assistant) is a major bonus. The new design also brings custom objects and fields in automatically, and configuration can be easily done by end users on the fly. And that's just to name a few of the benefits.
LinkPoint Connect offers a meeting notes integration and a mobile app.
Meetings can be a bit of a time drain. Adding the notes about what everyone said after the meeting is even more of a drain. It's why we developed Meeting Recap (which, by the way, works with our Classic and Enhanced versions). You preset the typical meeting questions you always have to answer. (Or managers: set up whatever you want your teams to tell you about all of those calls they have and tell you went "fine". Whatever fine means.) Then after a call, click the Meeting Recap button in the Side Panel, click a few answers, and you're done. And it works the same on our Meeting Recap mobile app, so if you are out visiting clients or following up with someone while watching your kid's soccer game, you can still enter your notes in Salesforce!
LinkPoint Connect lets you drag a file from anywhere and add it to Salesforce.
Yes…anywhere. See all of those paper clip icons scattered about our Side Panel? That's the secret. Find a file. Any file. It's in your email or on your computer desktop perhaps. Click on it, and hold down that left mouse button. Then drag it, like you're moving it around, and point your mouse at a paper clip icon in our Side Panel. If you're happy with your choice (i.e. paperclip icon on an Opportunity record ready to receive that major signed contract you have right in your inbox), then release the mouse button. And presto — we'll upload that file for you instantly to the Salesforce record. It's that simple.
What else don't you know about LinkPoint Connect? Well, you can ask your questions and we'll give as in depth an answer as possible. Or, you can test drive LinkPoint Connect for free and experience it yourself, in your own CRM and email set up, and discover more ways that we make users more efficient and more productive.